10th ICAFT
International Conference on Accounting and Finance in Transition, European and World Experience and Public Policy Consideration
to be held on 9-12 July 2013.
Belgrade, Serbia
MISSION AND HISTORY OF THE CONFERENCE
The International Conference on Accounting and Finance in Transition (ICAFT) is a major international conference devoted to exploring trends, experience, and issues enerated by accounting and finance academics, researchers, practitioners, and policy makers in the context of dynamic political, economic and social changes. The conference has been convened on an annual basis since it was launched in 2003 by the University of Greenwich, London.
The conference is the tenth in a row, following earlier conferences organised:
London, Greenwich (2003, 2005, 2007, and 2009)
Kavala, Greece (2004)
Adelaide, Australia (2006)
Nagpur, India (2008)
Tshwane/Pretoria, South Africa (2010)
Riga, Latvia (2012).
In 2013, the 10th ICAFT will be hosted in Belgrade,
capital of the Republic of Seriba, hosted by the
Serbian Association of Accountants and Auditors
WHO WOULD ATTEND THIS CONFERENCE?
Academics
Researches
Consultants

Policy-makers
Entrepreneurs
PhD students
CONFERENCE THEMES
General (panel) and specific (in sessions) topics will be discussed during the Conference.
Among them will be:
Financial Reporting and International Harmonisation
Corporate governance and Financial Stability
Financial and Capital Market Development and Regulatory Authorities
Corporate Finance and Financial Strategy
Public Sector Financial Management

Business Performance and Intellectual Capital
Information System for Accounting and Finance
Entrepreneurship and SME Financial Support System
Innovation and Business Finance
Accounting and Finance Methodology and Technique.
Papers in any area of accounting and finance and neighboring disciplines are welcome; especially those addressing issues such as the failure of classical accounting and finance models and methodologies to grasp the nuances of emerging markets.
The conference organisers will welcome any innovative and thought-provoking paper that challenges the dominant schools of thought and offers an alternative explanation.
Papers in International Business and Area Studies (International Finance and International Financial Strategy) are also welcome, as well as those dealing with the future of the accounting and finance professions.
Comparative studies on the development of the accounting profession in emerging markets are of particular interest for one of the conference tracks.
The above list of topics is by no means exhaustive, and any paper dealing with any issue facing the accounting and finance professions in the 21st century will find a positive response from the International Advisory Committee.
ABSTRACT AND PAPER SUBMISSION
One-page abstracts giving a clear indication of the contribution to a sub-topic are expected by 22. April, 2013. Feedback from the organisation committee will be notified one-two weeks later. Layout requirements for abstract you can find in Appendix 1.
Authors are invited to electronically submit a full paper before or on 15. May, 2013.
Abstracts and papers should be submitted directly to Dimitrios Maditions, Chair of the Selection Committee Chair at dmadi@teikav.edu.gr
PUBLICATIONS
All the submitted papers will be double blind-reviewed
All the comments by the reviewers will be forwarded to the authors, in case some modifications are needed either prior to the conference and before publishing. The authors will be required to make these changes and re-submit the paper for publishing in due time.
Notification of acceptance will be sent to all successful authors by 15. June, 2013. Revised paper, taking into consideration referees' comments, must be submitted within two weeks of notification and not later than 1th July 2013.
All accepted conference papers will be published on a conference book of abstracts, and on a CD ROM.
Having received the notice about the paper acceptance, the author(s) should agree to guarantee that the submitted paper has not been published, accepted for publication, or is under consideration for publication elsewhere.
INTERNATIONAL ADVISORY COMMITTEE
Željko Šević (Glasgow Caledonian University, Scotland), Edouard Mambu ma Khenzu (Banque Internationale pour l'Afrique au Congo (BIAC) , Democratic Republic of the Congo), Mervyn K. Lewis (University of South Australia, Australia), Gerda Zigiene (Vilnius University, Lithuania), Dermot Williamson (Lancaster University, England), Metka Tekavčič (University of Ljubljana, Slovenia), Dimitrios I. Maditinos (TEI Kavala, Greece), Ron McIver (University of South Australia, Australia), Irina Kuzmina-Merlino (RISEBA, Latvia), Aleksandar Šević (University of Dublin Trinity College Dublin, Ireland), Maria Lissowska (Warsaw School of Economics, Poland), Lesley Catchpowle (University of Greenwich, England), Jian Chen (University of Nottingham), Danijela Miloš-Sprčić (University of Zagreb, Croatia), Petr Jakubik (Charles University Prague, the Czech Republic), Kanes K. Rajah (Royal Agricultural College, England), Kevin Grant (London South Bank University, England), Neda Vitezić (University of Rijeka, Croatia), Roman Matoušek (University of Sussex, England), Reza Kouhy (University of Abertay Dundee, Scotland)
CONFERENCE FEE and Participants Entitlement
Registration Fee

up to 15 june 2013.

after 15 june 2013.

Conference Delegates

EUR 390

EUR 490

PhD candidates/students

EUR 300

EUR 400

Accompanying persons

EUR 290

EUR 390
The full conference fee will be charged to the first and second authors, whilst third, fourth, etc. co-authors will be charged accompanying person fees.
Participants who has registered and paid the full fee are entitled to:
Full participation in the conference
All lunches, tea and coffee breaks
All dinners
Conference book of abstracts
Conference proceedings CD ROM
Social program, including post-conference trip.
REGISTRATION FORM
Registration form, that should be submitted no later then 15. june 2013 (for early fee benefit) or until 1. july 2013 (late registration fee applicable),can be obtained here
REGISTRATION AND FEE PAYMENT DETAILS
The fees can be paid by bank transfer (in EUR) in accordance with following payment instruction:
| | |
| --- | --- |
| Name of beneficiary : | Savez racunovodja i revizora Srbije |
| Beneficiary's address | Njegoseva 19, Beograd |
| Beneficiary's acc.number/IBAN: | RS35170003000500600180 |
| Beneficiary bank: | Unicredit bank Serbia JSC |
| Beneficiary bank SWIFT address: | BACXRSBG |
| Purpose of the transfer | [Participant's name], ICAFT 2013 conference fee |
Detailed payment instruction can be obtained here
Detailed payment instruction for participants from Serbia can be obtained here
In the case of on-site payment an additional service fee of EUR 50 will be charged.
ORGANIZING COMMITTEE
Professor Zeljko Sevic, PhD (Glasgow Caledonian University, Scotland), Edouard Mambu ma Khenzu, PhD (Banque Internationale pour l'Afrique au Congo (BIAC), Democratic Republic of the Congo), Professor Blagoje Novicevic, PhD (Faculty of economics Nis, Serbia), Scepan Sofranac (Serbian Association of Accountants and Auditors, Serbia), Zoran Skobic, MSc (Serbian Association of Accountants and Auditors, Serbia), Danica Jovic, MSc (Faculty of economics Belgrade, Serbia), Dejan Mikerevic, PhD (Faculty of economics Banja Luka, Republic of Srpska), Igor Adzic (Serbian Association of Accountants and Auditors, Serbia), Maja Starcevic Jankovski (Serbian Association of Accountants and Auditors, Serbia), Vitomir Savic (Serbian Association of Accountants and Auditors, Serbia)
ACCOMODATION
The organisers advise to consider hotel Park (www.hotelparkbeograd.rs), in the very centre of Belgrade, which will also serve as a conference venue. Park hotel was recently fully renovated, following the year-long closure, and which offer much better quality of service that its three starts may suggest. The hotel is very close to the main amenities, including the headquarters of the local organizer – The Serbian association of accountants and Auditors.
For participants of ICAFT accommodation prices in hotel Park are:
| | |
| --- | --- |
| Single room | 45€ per night |
| Double room | 60€ per night |
Prices include breakfast, VAT, use of gym and free internet. Prices do not include tourist tax (2€ per day) which is payable on departing day.
However, for the participants who would like to organize accommodation by themselves, there is much on offer. Belgrade is a cosmopolitan city so finding accommodation for everyone taste will not be difficult. There are many boutique hotels, chain hotels, and rent-apartments. Usual travel websites will offer a good advice and acceptable prices.
Location

Short description

Hotel Slavija lux

Approximately 30 minutes drive from the Airport

5 minute walk to conference venue

Located in the business centre of Belgrade, in the immediate vicinity of the St. Sava church, this hotel is easily accessible from the main bus and train stations. All rooms and suites are air conditioned, soundproof and fitted with a minibar and LCD cable TV.

Hotel Metropol

Approximately 30 minutes drive from the Airport

10 minute walk to conference venue

Originally opened in 1957, the Metropol Hotel reopened in 2012 as Metropol Palace, a Luxury Collection Hotel. Located in the city center on one of the main avenues. After a total renovation Metropol Palace can now be considered the most luxurious hotel in Belgrade.

Hotel Moskva

Approximately 30 minutes drive from the Airport

15-20 minutes walk to conference venue or
2 trolley stops

Hotel Balkan is situated in the centre of Belgrade overlooking Terazije Square. Ever since it was built in 1906, Hotel Moskva is a landmark in the very centre of Belgrade. It offers accommodation with free Wi-Fi, air conditioning and minibars.

Hotel Balkan

Approximately 30 minutes drive from the Airport

15-20 minute walk to conference venu or
2 trolley stops

Hotel Balkan is situated in the centre of Belgrade overlooking Terazije Square and a fountain from 1860. It offers well-equipped rooms with cable TV and free Wi-Fi. Hotel Balkan is very close to all the cultural and entertaining venues in the city.
Based on your preferences, you may also consider a non-hotel type of accommodation, such as appartments for rent. Information about apartments for rent in Belgrade can be obtained at web pages such as:
PUBLIC TRANSPORT IN BELGRADE
Belgrade has an extensive public transport system, which consists of buses, trams, trolley buses and trains operated by the city-owned GSP Belgrade and several private companies. All companies participate in Integrated Ticket System (ITS), which makes tickets transferable between companies and vehicle types. Tickets can be purchased in numerous kiosks or from the driver. They must be canceled inside the vehicle and are valid for one ride only.
As for the taxi services, instead of catching a taxi on the street, it is more favourable to call one of the taxi services beforehand by phone, such as:
| | |
| --- | --- |
| Maksis taxi | 19804 |
| Pink taxi | 19803 |
| Taxi Bel | 19808 |
| Yellow Cab | 19802 |
| Beogradski Taxi | 19801 |
The prescribed rates for taxi services are as follows:
Service

Tariff 1
(RSD)

Tariff 2
(RSD)

Tariff 3
(RSD)

Start

170

170

170

A kilometer ride

65

85

130

An hour of waiting

750

750

750
Getting from / to the airport
PUBLIC TRANSPORT
Public bus line 72 departs from the airport every 30 minutes, and will take you through several parts of Belgrade before arriving at its final stop near the Zeleni Venac green market in the city center. The bus ticket costs 45 dinars (~0.50 euro) if bought at a newspaper stand, or 80 dinars if bought from the bus driver. Although cheaper, this is probably not the best option for first time visitors to Belgrade, unless you have a map of Belgrade with yourself or are the adventurous type of traveller.
MINI BUS LINE A1 (route and timetable)
Ticket price: 300 RSD (tickets can be obtained in the bus)
Approximate travel time: 40 minutes
Route: Belgrade "Nikola Tesla" Airport - Slavija Square, which is very close to the conference venue, Hotel 'Park'
TAXI (Additional information on taxi services)
There is a Taxi info stand at the arrivals hall. If you wish to take a taxi to your destination, go this stand and state your destination. You will be given a voucher with the price you will have to pay the taxi driver once you get to your destination. There are 5 zones with prices ranging from 1800 to 8.200 dinars (~16-75 euro). Hotel Park and other recommended hotels are in the city center, in the first zone, and getting there should cost you 1800 dinars (~16 euro). Apart from the voucher you will be given a leaflet with information on what to do if the taxi driver charges you more than the amount stated on the voucher.
CONFERENCE VENUE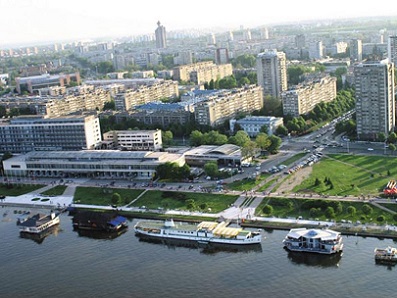 Belgrade is the largest city and capital of Serbia, with over 1.8 million residents. It is well connected with many cities in Europe with at least one daily flight to Frankfurt, London, Munich, Paris, Rome, Vienna, etc. Being based on two rivers – Danube and Sava – Belgrade is a city which has learned to live with its rivers and many happenings are organised on the riverbanks.
Belgrade is the capital of Serbian culture, education and science. It has the greatest concentration of institutions of national importance in the field of science and art. There is the Serbian Academy of Sciences and Arts, established in 1886 as the Serbian Royal Academy: the National Library of Serbia, established in 1832; the National Museum, established in 1841 and the National Theatre, established in 1869. The city is also the seat of the Belgrade University, founded in 1808 as the Great School, and the seat of the University of Art.
The capital of Serbia hosts the most eminent architecture works, e.g. Kalemegdan Fortress, numerous cultural monuments, archeological sites and other cultural treasures. Moreover, there are a lot of museums to choose from, including the Museum of Applied Art and Nikola Tesla Museum. Belgrade has an excellent Air Force Museum close to the Airport Nikola Tesla, and the Military Museum housed in the Fortress Kalemegdan, that oversees the estuary of Sava to Danube.
NATIONAL CURRENCY
Serbia's official currency is the Serbian dinar (RSD). We recommend to convert foreign currency at the airport (even though the rate there tends to be a bit higher) or in the banks located throughout the city or in the numerous and visibly marked authorized exchange offices (Menjačnica/Мењачница). The Euro is occasionally accepted, but prices are often overestimated when directly compared to the Dinar. Belgrade is typically on par with many European cities prices. In february 2013, the exchange rate is: 85 Serbian Dinars for 1 US Dollar, and 111 Serbian Dinars for €1.
OFFICIAL LANGUGAE
The official language for the Conference is English. Presentations are to be held in English and also the papers in the proceedings will be published in English.
NIGHTLIFE IN BELGRADE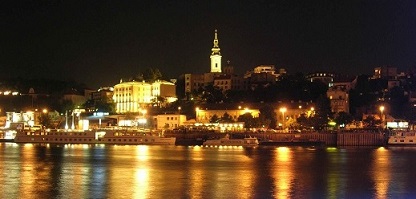 In several instances Belgrade has been proclaimed Europe's best nightlife city by The Times and CNN, boasting cheap drinks and accommodation in comparison to the rest of Europe. The centre of nightlife takes place on floating river clubs anchored along the Danube and Sava. Other interesting spot is inside the walls of the Kalemegdan Fortress. Moreover, Strahinjića Bana street is a unique fun zone: numerous cafes, restaurants and bars, always filled with loud and cheerful Belgraders.
THE OLD BOHEMIAN QUARTER OF BELGRADE

Skadarlija is the old bohemian quarter of Belgrade and it dates back to late 19th century, it has a history of more then 150 years. It was a meeting point for lots of the greatest figures of the cultural scene of the period. It is often compared with the Montmartre in Paris, both for its appearance and the cheerful, vigorous artists' atmosphere.
WELCOME TO BELGRADE…
FURTHER INFORMATION
For general information, coordination, and questions on contribution you may contact our staff, mrs Maja Starcevic Jankovski and mr Igor Adzic:
Email:
Phone:

+381 11 3344 883
+381 11 3344 404

Fax:

+381 11 3231 220

Postal Address:

Savez racunovodja i revizora Srbije,
Njegoseva 19, Beograd, Serbia
APPENDIX 1
Layout requirements for abstract
The abstract (article) must be laid out on an A4 size (210 x 297 mm) page, text single spaced, in Times New Roman font and ina single column. Margins must be 2 x 2 x 2 x 2 cm. The abstract (article) must be fully compatible with MicrosoftWord text processor (not older than version of 2003) for Microsoft Windows operating system.
Other layout requirements that must be met:

Title of the Article (12 pt, Bold, ALL CAPS, centred)
Author's Name, Surname, (11 pt, Bold, centred)
Author's workplace/university, its address (11 pt, Normal Italic, centred)
Author's e‑mail address (11 pt, Normal Italic, centred).
Author's Name, Surname (11 pt, Bold, centred)
Co-authors' workplace/university, its address (11 pt, Normal Italic, centred)
Co-authors' e‑mail address (11 pt, Normal Italic, centred)
Abstract (11 pt, Bold, first line indentation 0.6 cm)
Abstract text (10 pt, Normal, first line indentation 0.6 cm)
Keywords (10 pt, Bold, Italic, first line indentation 0.6 cm): keywords written in 10 pt, Normal.
Abstract (250-500 characters long) in English (see the detailed description below).
The abstract must be structured into 4-7 sub-headings:
Purpose (mandatory) (What are the reason(s) for writing the paper or aims of the research)
Design/methodology/approach (mandatory) (How are the objectives achieved? Include main method(s) used for the research. How do you approach the topic and what is the theoretical or subject scope of the paper?)
Findings (mandatory) (What was found/proved in the course of work? This will refer to analysis, discussion, or results).
Research limitations/implications (if applicable) (If the paper reports on the research, this section must be completed and should include suggestions for future research and any identified limitations in the research process).
Practical implications (if applicable) (What outcomes and implications for practice, applications and consequences are identified? How will the research impact upon business or enterprise? What changes to practice should be made as a result of this research? What is the commercial or economic impact? Not all papers will have practical implications.)
Social implications (if applicable) (What will be the impact of this research on society? How will it influence public attitudes? How will it influence (corporate) social responsibility or environmental issues? How could it inform public or industry policy? How might it affect quality of life? Not all papers will have social implications.)
Originality/value (mandatory) (What is new in the paper? State the value of the paper and whom it concerns.)
APPENDIX 2
Important dates
| | |
| --- | --- |
| One-page abstracts giving a clear indication of the contribution to a sub-topic are expected by | 22 April 2013. |
| Authors are invited to electronically submit a full paper before or on | 15 May 2013. |
| Registration and payment (early fee) must be completed no later then | 15 June 2013. |
| Accommodation (if booked trough local organiser) must be paid no later then | 15 June 2013. |
| Notification of acceptance will be sent to all successful authors by | 15 June 2013. |
| Revised paper, taking into consideration referees' comments, must be submitted within two weeks of notification and not later than | 1 July 2013. |
| Registration and payment (late fee) must be completed no later then | 1 July 2013. |
| Start of Conference | 9 July 2013. |
| End of Conference | 12 July 2013. |
---